About Hugh
Born and raised in Ottawa, Canada, Hugh started cooking at a young age and decided to make it his career after taking a very long time to realize that academics weren't his thing. At age 15, he began working in restaurants after school and learning as much as possible. Today, Acheson's experience includes working under Chef Rob MacDonald where he learned stylized French cuisine, wine and etiquette at the renowned Henri Burger restaurant in Ottawa, and in San Francisco as the chef de cuisine with Chef Mike Fennelly at Mecca, and later as opening sous chef with famed Chef Gary Danko at his namesake restaurant, where he found a love of the simple, pure and disciplined.
Taking these experiences, Hugh developed a style of his own forging together the beauty of the South with the flavors of Europe and opening the critically acclaimed Athens, GA restaurant 5&10 in March of 2000.
In 2007, Acheson opened The National with fellow chef Peter Dale. Adding to his list of dining establishments, Hugh opened Atlanta restaurant Empire State South in the summer of 2010 and coffee shop Spiller Park Coffee in November of 2015.
…Hugh developed a style of his own forging together the beauty of the South with the flavors of Europe…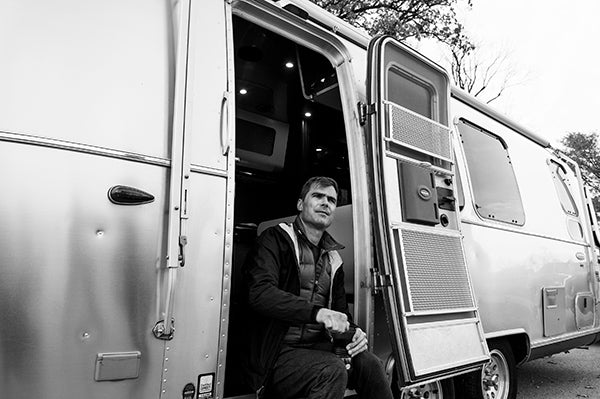 Hugh's cookbook titled A New Turn in the South: Southern Flavors Reinvented for Your Kitchen published by Clarkson Potter, hit the bookshelves in October 2011 and won the award for Best Cookbook in the field of "American Cooking" by the James Beard Foundation in 2012. In A New Turn in the South, you'll find libations, seasonal vegetables that take a prominent role, salads and soups, Hugh's prized sides, and fish and meats, turning Southern food on its head every step of the way. Hugh's pickling swatch book Pick a Pickle: 50 Recipes for Pickles, Relishes, and Fermented Snacks, also by Clarkson Potter, was published in the spring of 2014 and is a handy kitchen go-to for canning and preserving. In May of 2015, Hugh's cookbook, The Broad Fork: Recipes for the Wide World of Vegetables and Fruit, was released. The book brings fresh produce to the center of the plate and offers knowledge and the inspiration to consider new directions for how we eat and support our communities through the wonderful world of agriculture. In October of 2017, Hugh's most recent cookbook, The Chef & The Slow Cooker was published. The Chef & The Slow Cooker brings a chef's mind to the slow cooker, with recipes showing readers how an appliance generally relegated to convenience cooking can open up many culinary doors.
All four of Hugh's books offer inviting and surprising photography. Each book is full of Hugh's personality as well, and the pages are layered with his own quirky writing and sometimes his own sketches and doodles. In each, he invites you into his community and his very creative world of food— to add new favorites to your repertoire. 
A self-taught Chef, Hugh believes in the potential and necessity for every person to learn the skills to prepare wholesome, fulfilling meals from scratch at home. Concurrently, preparing students to be autonomous, successful citizens who can navigate their cell phone contracts, avoid predatory loans, and fix it before they pitch it will empower the next generation to lead successful, healthy lives.
Acheson's fresh approach to Southern food has earned him a great deal of recognition including Food & Wine's Best New Chef (2002), the Atlanta Journal Constitution Restaurant of the Year (2007), a five time (2007, 2008, 2009, 2010, 2011) James Beard nominee and 2012 winner for Best Chef Southeast. In 2007, Hugh was named a Rising Star from StarChefs.com and in 2012 he won the StarChefs Mentor Award. Hugh has also been in Bon Appetit, the New York Times, Garden & Gun, Fine Living, Food & Wine, Gourmet, Southern Living, Better Homes & Gardens, Maclean's, Art Culinare, and Saveur.
In 2010 Hugh competed on Bravo's Top Chef Masters: Season 3. He returned to the hit show as a judge on Top Chef: Seasons 9 - 13 as well as Top Chef: Duels. He also hosted Bravo's online complement to Top Chef Masters Season 5, called Battle of the Sous Chefs.
But all of that is to everyone outside of Athens. To Athens, he is the guy who owns those restaurants, has one eyebrow, and two daughters who are the apple of his eye.